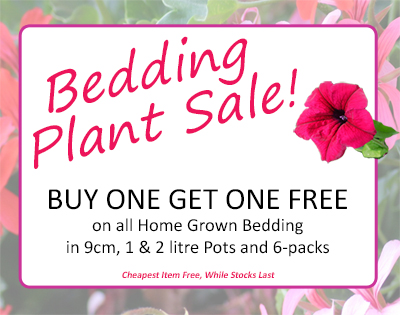 Bedding Plant Sale!
BUY ONE GET ONE FREE
On all of our gorgeous home-grown bedding and hanging basket plants.
Choose from:
Large 2-litre Geraniums and Fuchsias
Striking 1-litre mixed bedding range
Individual 9cm pots in a whole host of varieties
6-pack bedding trays
The cheapest item is free, offer valid while stocks last
We have been growing quality bedding plants for over 30 years and they are still a big part of our nursery production. Each year we grow over 4 million quality patio and basket plants, across hundreds of varieties.
It takes minutes to bring plants down from our nursery into the sales area, guaranteeing that they are wonderfully fresh.
Summer patio and basket plants are so versatile, they provide colour from late spring right through to the first frosts. They are ideal for beds, borders, patios, tubs, pots, hanging baskets and window boxes. Popular species are impatiens, geraniums, fuchsias, begonias and petunias.
At Botany Bay you can purchase your bedding plants in a number of ways:
Plug plants
You can grow these on yourself in your greenhouse or plant them directly into your container or hanging basket. Available from the middle of March


Pack bedding
Our range is ideal for larger scale projects in the garden when you need a quantity of the same plant, or alternatively you can hand select individual plants to create your own design of hanging basket or container. Available from early April


9cm pots
These plants are more established and are ready to plant into your baskets, containers or garden borders. Available from mid April


1-litre pots
Mid-size plants in a super range of varieties including our gorgeous confetti mixes. Available from early May
Large specimen geraniums and fuchsias
These are a particular speciality of Botany Bay Nurseries. These impressive plants are large enough to fill a single basket or chimney pot, providing instant colour. Available from early May