Planting a Herb Garden

Creating a herb garden is easy and really satisfying. It's a brilliant starting point for a beginner gardener and a great project for children too.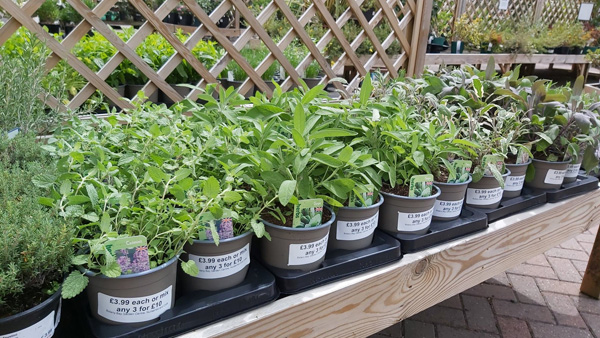 Where should they be planted?
Herbs are happy grown in containers, pots, troughs or of course directly into the ground.
Different herbs like different positions. Herbs such as basil, parsley and coriander don't like bright sunshine as they will then flower and not produce a good crop of leaves. On the other hand, oregano, mint, chives and rosemary love a bright sunny spot, so choose a bed or place your container somewhere suitable depending on which herbs you are growing.
A good tip with mint is to keep it separate from your other herbs in its own pot as it grows quickly and tends to smother the other herbs.
How should I plant them?
Use good soil or a good quality compost and make sure there is plenty of drainage too, so if you are using a container make sure there are holes in the bottom and put some stones or broken crocks in first to help with drainage.
Arrange your herb plants in your bed or container about a hands-width apart and then carefully remove the pots and plant them, using compost to fill the gaps around them and gently firm the soil.
Water your herbs well and don't forget to label them so you know what they are when you need to harvest them.
What about harvesting my herbs?
Do not be afraid to harvest your herbs often. The more you harvest the more the plant will produce new leaves for you to harvest again. If you do not need the herbs harvest them anyway, they can be frozen or dried and used all year round.