Autumn Inspiration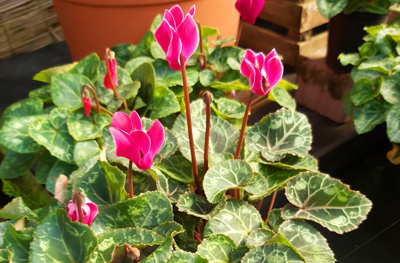 As autumn approaches the garden changes hue
Many leaves are now starting to change colour and become a dramatic vision of gold and bronze. Soon many plants and trees will lose their leaves totally until the spring.
However there is still lots of choice when it comes to gorgeous seasonal colour.
Pansies and Violas are a traditional winter flower providing a carpet of vibrant colour.
Cyclamen has a delicate brightly coloured flower and interesting dappled leaves, perfect for planting in containers and pots.
Now is the time to plant your bulbs for spring flowers. Choose from daffodils, tulips, crocuses, snowdrops and many many more. Try layering several varieties in a large pot for continuous bursts of spring colour.
September is harvest time and a great time to plant fruit trees and fruit bushes. We have a super choice of fruit trees including apple, damson, cherry, pear and more. We also have some interesting fruit bushes as well as the traditional favourites, try raspberry, blackberry and gooseberry, but how about japanese wineberry, honeyberry or gojiberry for an interesting change.
We have a great selection of autumn hanging baskets and planted containers for colour, texture and fragrance right through the winter.
There are so many reasons to visit Botany Bay this autumn, so pop along, we always look forward to seeing you!