Christmas Shop
Here at Botany Bay Nurseries, Plant Centre & Wildlife Shop we have superb facilities for our Christmas Trees. Why trudge through muddy fields in the cold when you can 'Buy In The Dry' here at Botany bay Nurseries, Plant Centre & Wildlife Shop. Browse through our extensive range of cut and potted Christmas Trees in comfort.
Our friendly team will even wrap your Christmas Tree and carry it to your car. Alternatively we offer a delivery service right to your front door.
Here is a little bit of info about The Christmas Trees we offer and how to care for them;
Norway Spruce - The Traditional Christmas Tree (available as a Container Grown Christmas Tree)
The Norway Spruce Christmas Tree  is what most people think of as the traditional tree at Christmas time.   The Norway Spruce tree has its own unique scent, feel and shape that will remind you of a traditional Christmas.   The Norway Spruce is best suited to outside or colder areas of the home as it does not have such a good needle retention as the Nordman or Frase Fir trees.   The Norway Spruce needles are mid to dark green and a bit prickly to touch, but the strong branches make it an ideal tree to decorate.
Fraser Fir - the Christmas tree with a scent (available as a Cut Christmas Tree)
The Fraser Fir is a pyramid shaped tree with flat, shiny deep green needles.  Fraser Fir foliage is dense and soft and great for all the family to decorate.  The Fraser Fir is generally a narrow tree making it ideal where space is at a premuim. The needle retention on a Fraser Fir is excellent.
The Nordman Fir - The Number 1 Tree! (available as a Cut or Container Grown Christmas Tree)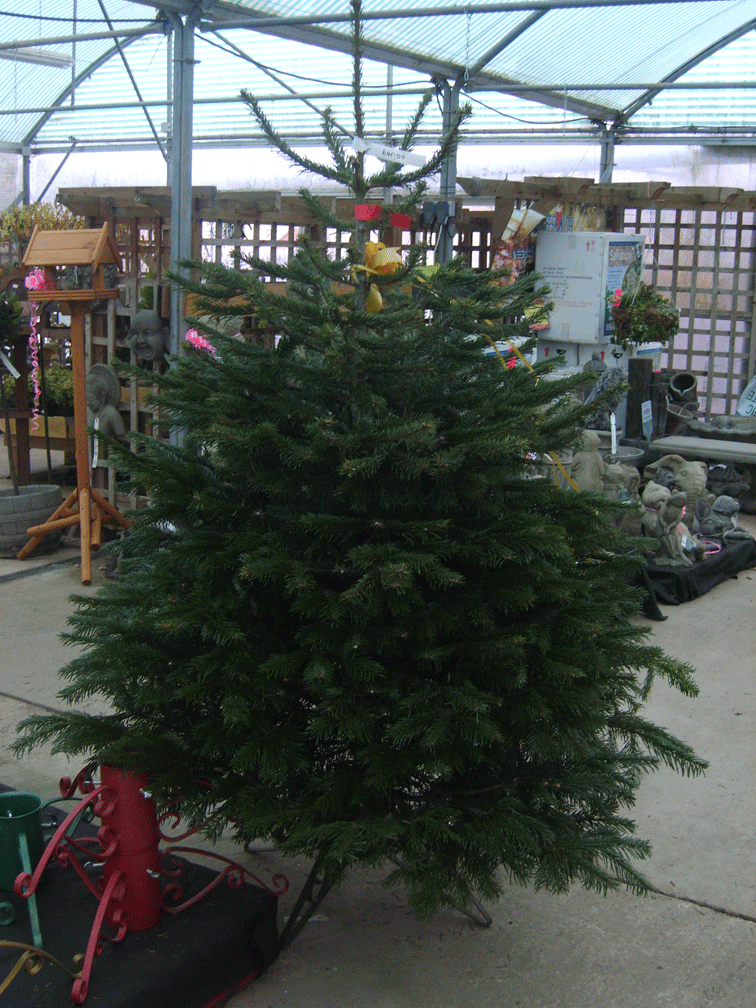 The Nordman Fir is the most popular Christmas tree sold in Britain. A Nordman has a lovely symmetrical shape, with strong branches.   The Nordman Fir needles are shiny, mid green and soft to touch, making it ideal for all members of the family to decorate.  The needle retention on a Nordman Fir is absolutely excellent.
How to care for your Christmas Tree
Cut Trees
After you have bought your tree it should be kept outside in a cool  place, preferably standing in water, until it is required indoors.
Before bringing the tree indoors cut about half an inch or 5cm's off the butt in order to open up the pores of the tree. By doing this the tree will actually take up water over the Christmas period.
 Mount it in a water-holding stand and place it away from direct heat. Keep the container topped up with water every day; you will be surprised how much it needs.
Potted  Christmas Trees
A potted Christmas Tree shouldn't be confused with a container grown Christmas tree. Potted Christmas trees have been gown in fields then dug up with their roots intact. The small roots break off and only a limited amount of soil comes with the larger root system. During October they are potted in time for Christmas sales.
The earth should be kept moist at all times. These potted Christmas trees will last longer if they are kept away from direct heat when they are brought indoors. There is a 50/50 chance that these trees will survive if planted out after Christmas. They should be watered very well.
Container grown Christmas Trees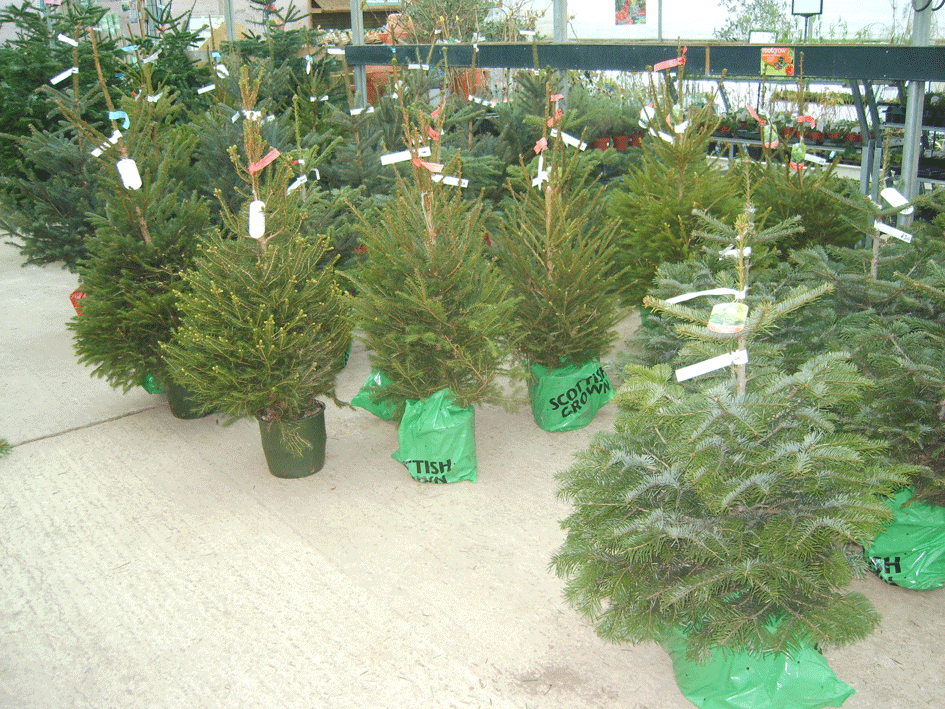 Container grown Christmas trees have been grown for at least one year in their pots. The trees themselves  look fresh and healthy. At Botany Bay Nurseries, Plant Centre & Wildlife Shop we offer container grown trees In both Norway Spruce and Nordman Fir. The trees should be watered and cared for as if they are a house plant.
After Christmas they can either be planted out with a very good chance of success or they can be left to grow on in their pot, but it is much better in this case to re-pot the tree in a larger pot.